Gluten Free Fried Rice

This gluten free fried rice is a perfect example of a recipe that's meant to be more of a guide than a "follow this to the T" sort of instruction.  It's a great idea for using up leftover rice, and leftover anything else; veggies, meat, throw in some shrimp or scallops.  So let your creative juices flow.
Skip right to the Recipe if you like, or read through for some advice about ingredients, alternatives and short cuts.
Gluten-Free Fried Rice: Ingredients
The Rice
This gluten-free fried rice is best made with a white or brown long grain rice.  Brown rice is, like any other whole grain, higher in fiber and has a lower glycemic index so it's a bit healthier.  You can totally use an instant rice like Minute Rice, or a converted or parboiled rice.  It needs to be fully cooked so leftover plain rice is perfect.  I suggest steering clear of short grain rice like Arborio that you would use to make risotto.  It's a bit too starchy for this, and lets, face it, if you have left over risotto, it's just fine as risotto, why mess with it.   

Vegetables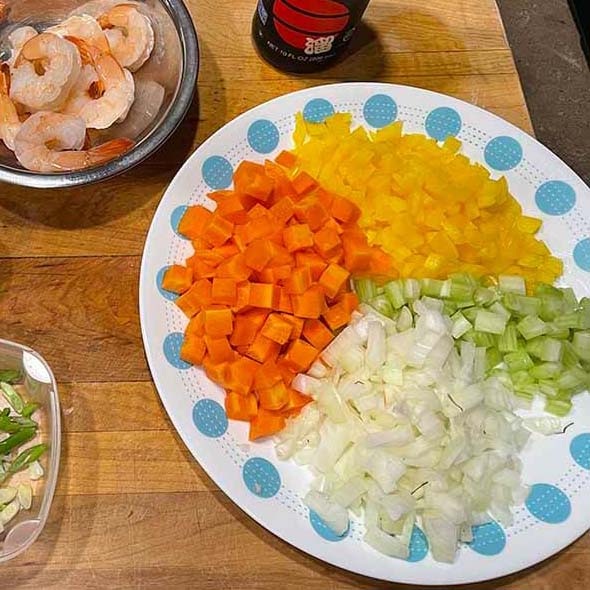 Use whatever vegetables you like.  Onions are a staple as they add the base of the flavor, but beyond that you can use celery, carrots, bell peppers, asparagus, spinach, brussels sprouts, broccoli, beans or bean sprouts, corn, you get the picture.   If you have leftover vegetables this is a great opportunity to toss them in.
Dice your veggies so they're all about the same size, 1 cm or 1/2" cubes give or take.  This will help everything to cook evenly and make your finished gluten-free fried rice dish look nice.  
Time Saving Tip:  Looking to get out of all that chopping and dicing? Mixed frozen vegetables work great.  You can use an Asian mix, or peas and carrots, or corn.  Run them under a little cool water in a colander to thaw and drain before adding them to your pan.
Meat
Meat is optional.  Gluten-free fried rice is great as a vegetarian dish, but if you do eat meat and you have leftovers, cube it up and toss it in.  Ham, roast beef, steak, chicken, bacon.  Whatever you like, it will be great.
If you don't have leftover meat you could sauté up some shrimp like in the photo, or scallops.  Dice up a boneless chicken breast, but you'll need to cook it before adding it to your gluten-free fried rice.  What about adding in some chunks of tuna right at the end? 
Vegetarian Protein
If you don't eat meat and you want to make this a full vegetarian meal with a complete protein then add in some beans or legumes.  Cooked or canned lentils, black beans or kidney beans will taste great and will elevate your gluten-free fried rice to a fill blown hearty vegetarian meal. 
Eggs
Traditional fried rice includes scrambled egg.  This of course if optional too.  If you don't eat eggs, leave them out.  If you want to add them, just whisk them up lightly and clear a space in the middle or to one side of the pan.  pour them in then stir until you have scrambled eggs, then mix then through your gluten-free fried rice. 
Soy Sauce
The soy sauce, or soya sauce that we often see in our grocery stores is not gluten-free!  So make sure you are buying soy sauce that is specifically marked gluten free.  Tamari is a Japanese style soy sauce and goes beautifully in this gluten-free fried rice.  You can also get the perhaps more well know Chinese style soy sauce in a gluten free version.  In Canada the brand is VH.  As always, be sure to read the label.

Keto Friendly Version
Yes, it's true!  You can have keto friendly fried "rice"!
The Rice 
Simply replace the rice in the recipe with cauliflower "rice". 
There are two ways to make cauliflower rice:
1. Put the cauliflower florets into the food processor and process until the cauliflower is in pieces about the size of rice.  Don't make it too small or you may end up with mushy rice.  
2. The second way to make cauliflower rice is to grate the cauliflower on a cheese grater.  
To cook the cauliflower rice, sauté it in a large pan with a little oil then cover and let it steam until tender, about 5 to 8 min.  You' shouldn't need any extra moisture as the cauliflower is already moist.
The Vegetables
Just make sure you're choosing keto friendly vegetables.  Carrots are quite sweet and starchy so are not usually recommended for keto except in very small portions.  You'll likely want to stick to peppers, onions and green vegetables.
Gluten-Free Fried Rice: The Recipe
Ingredients
Cooked long grain rice, about 3 cups

1 small onion diced

1 stock of celery diced
Vegetables below are suggestions, use what you have or mix it up how you like.
1 carrot diced
1/2 cup frozen peas
1 red bell pepper diced
optional spices: 1/4 tsp of nutmeg or curry powder
1 cup Diced meat like leftover chicken, pork, or beef cubed, or any other meat or seafood you'd like to add (optional)
2 eggs (optional)

¼ c gluten free soya sauce  or tamari
spring onion sliced on the bias
Method
Method: 

Heat enough oil in a skillet to cover the bottom. And add the onions and celery.  Cook until tender but still a little firm. 

Add other veggies.  Cook till heated through and tender. 

Add the precooked meat if using.

Add rice.  Stir and heat through. 

Add tamari or soy sauce. 

Suggestion:  Don't just dump in the tamari all at once.  The amount you need will depend on how much veggies and meat you have and how absorbent the rice is.  Add about ¾, taste and add more if you think it needs it. 

Move everything one side of the pan or make a well in the middle and pour the eggs into the empty spot.  Stir and cook until you have scrambled eggs then stir the eggs into the rice mixture.

Add your spices if using

Salt and pepper to taste.

You can add the spring onion right at the end or sprinkle it over each serving.
Serve gluten-free fried rice on it's own or as a side.  This is so much better than microwaving boring leftover plain rice isn't it ;)
You Might Also Like
Gluten-Free Grains: For more on gluten free grains, how to buy them, how to use them and how they fit into controversy around the gluten-free diet, go here.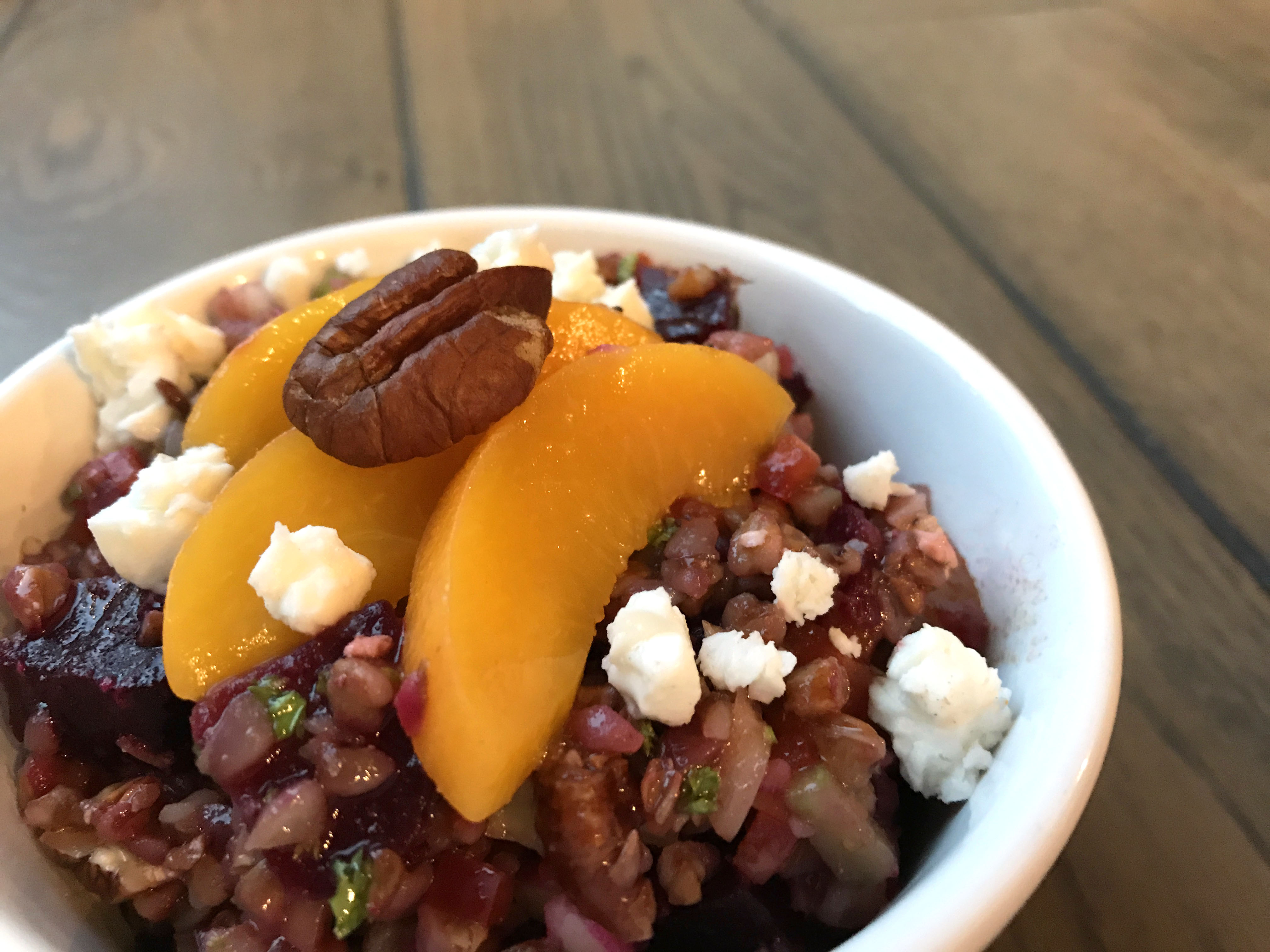 ---
Easy Gluten-Free Meals: 10 tips for making gluten-free meals fast and easy!  Here is where I channel my "just not in the mood today" self and share tips and lots of menu ideas, The goal is to get something naturally gluten-free and tasty on the table without a whole lot of fuss.