Gluten Free Pork Chop Recipe

Apple and Bacon Stuffed Pork Chops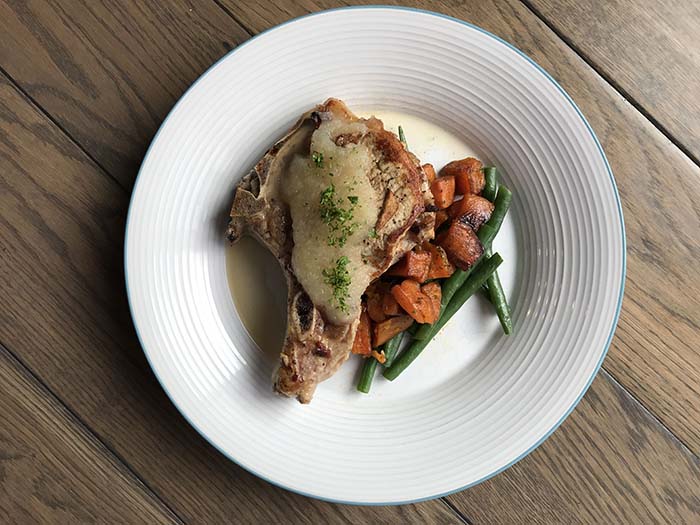 Looking for a gluten free pork chop recipe that will impress your guests?  This one is Naturally Gluten-Free and a cool way to snazzy up a simple pork chop with a few of everyone's favourite flavours.  I mean who doesn't love bacon and apple!  I've served this to company and the reviews were stellar.
Ingredients
4 thick pork chops with deep pockets sliced into the sides
½ onion, diced
1 stock of celery, diced
3 or 4 slices of bacon diced
2 – 3 apples peeled and chopped (about 2 cups)
2 slices of gluten free bread toasted, crusts removed, cubed (for a keto friendly version, omit the bread)
About ¼ cup of brandy or port (or for a little extra zing, try apple cider vinegar)
½ tsp sage
1 tbsp fresh chopped parsley.
Salt and pepper to taste
Method
Preheat oven to 375°F (190°C)
Dice up the bacon and fry it slowly.  This will render out a lot of the fat and you don't have to pay so close attention while you are doing the rest of the prep.  Once the bacon is done remove it to a plate with a paper towel. 
Turn the pan up a bit (leave the bacon fat in there) and brown your chops.  Remove them to a plate. 
Add the onion to the pan and stir it around to get the brown bits up from the bottom.  If it looks like there is not enough fat you can add a little oil.  Just clear the onion out of the way and add the oil directly to the pan.  Let it heat up then stir the onion into it.
When the onions are starting to soften up a bit add your celery, cook for a minute or two then add the apple.  Cook that for a bit then pour in the brandy.  Sprinkle the sage over top, salt and pepper to taste and let the whole thing simmer until everything is tender.  If it's too dry you can add a little water or a bit more brandy. 
While your filling is simmering you can take a couple of extra peeled, diced apples and toss them into a sauce pan for a nice apple sauce garnish.
When everything is cooked, stuff the filling into the chops, then pop them into the oven to finish cooking.  10 – 15 min should do.
Let stand for about 5 min.  Garnish with parsley.
Home > Recipes > Apple and Bacon Stuffed Pork Chops