Gluten-Free Cider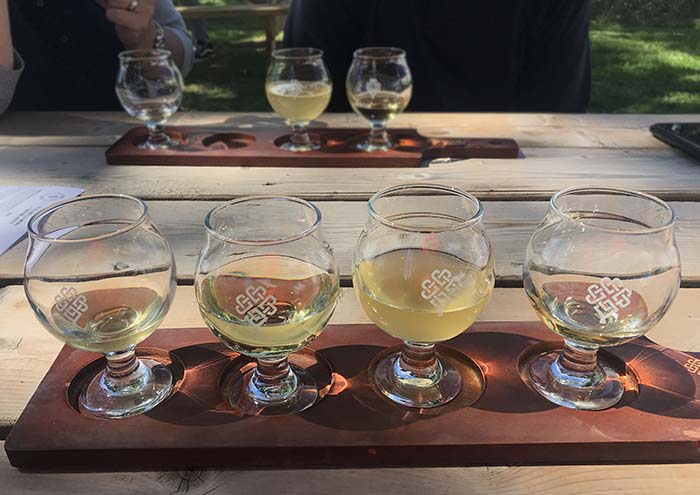 Cider Tasting at Loch Mor Cider Company in Prince Edward County, Ontario, Canada
Gluten-Free Cider: At Home and Abroad
A little nugget I discovered in an Irish pub in Bordeaux, France (I know right) and I have to admit it's become a bit of a habit, is gluten free cider.  It started one evening in said Irish Pub when I was lamenting the absence of beer in my life that the bartender, in his adorable Irish lilt recommended a Magners.  It was on tap and had that slightly dry, slightly bitter, kind of yeasty snap similar to beer.  I was hooked.  Since coming home I've tried several others and cider has become my go to drink when I'm looking for something not too sweet.

Gluten-Free Cider: A Great Alternative to Beer
Gluten free cider is a great alternative to beer. It's refreshing as is or over ice.  Some are a little dry and slightly bitter giving you that "beery" taste and others are sweeter, more like a cooler.  The rising popularity of ciders has inspired some the of major beer companies to add gluten free cider to their repertoires.  If it's a beer substitute you're looking for you may want to check out the offerings from Molson/Coors, or Alexander Keith's.  I've not personally tried the Molson one.  I've emailed them to confirm if it is gluten free and will update this post if and when I get an answer.  Keith's cider is gluten free but I've found it quite acidic and it gives me heartburn.  

Cider in general is made with apples, or other fruits and that makes them naturally gluten free.  In fact most ciders on the market today are certified gluten free.  There are however a few exceptions so I suggest a quick google search any time you encounter a new brand just to be sure.  The exception comes from the yeast that's used to ferment the fruit may not always be gluten free.
Gluten-Free Cider: Always a New Discovery
The are way too many brands to review them all here, but if you check out my Facebook Page you'll often see me holding up my latest gluten free cider discovery. This one is from a recent trip to Nashville. It's local to the area and not available in Canada.  When I travel I do like to try out the local fare, and gluten free cider is no exception. 

A popular brand here in Ontario, and perhaps the most commercial of the Ontario gluten free ciders is Grower's.  It's available at the LCBO and some wine stores and is actually my current fav.  They have a traditional apple cider plus pear and stone fruit options.  The real diamond though, at least IMO is the Grower's Rose Cider.  It's cider with a splash of wine.  A little lighter than a plain cider and makes a lovely thirst-quenching summer drink.

This one is more rare and a relatively recent find.  I've long been a fan of Kawartha Winery.  Right in the heart of the Kawartha's near Buckhorn, this quaint little shop / winery has been making fun and innovative fruit wines for quite some time.  It's a go to stop whenever we make the trek up to cottage country.  Recently they've climbed onto the gluten free cider bandwagon and have come up with quite an impressive array. Drop in if you're in the neighbourhood and they'll treat you to a tasting.  I'll just warn you that you might find a few bottles follow you home, or even a case.  Although that's never happened to me ;)

This gluten free cider is another gem I found while travelling.  This time to the east coast of my own country.  My husband and I went with another couple to the Canadian Maritimes and found this gluten free cider on Prince Edward Island (different from the Prince Edward County mentioned above, this one is a whole province).  It's actually made in Nova Scotia, Canada and the name comes from a law that I don't believe is enforce any longer in Halifax Harbour.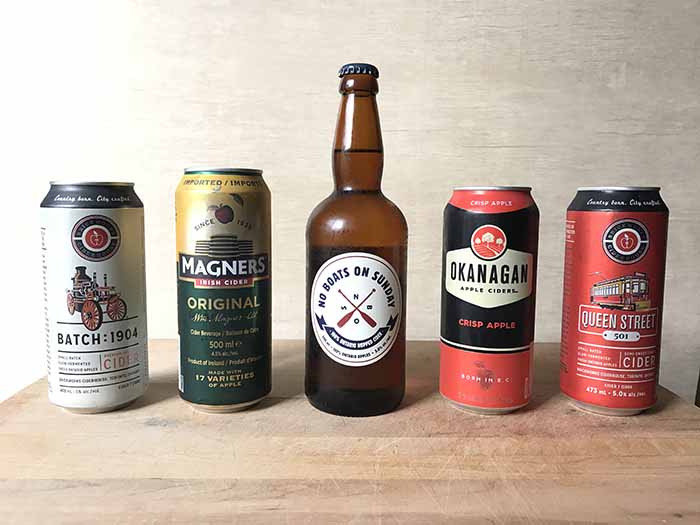 Here's what's in my fridge currently.  If you think I have a problem just tell me :) 
If you're in a pub or restaurant that likes to shall we say, play it safe, then you'll likely find one of the two more popular international brands, Sommersby and Strongbow.  They are both strong contenders in the gluten free cider world, that's why they are so popular, but to be honest I think they're a little boring. 
Gluten-Free Cider: Be Careful Out There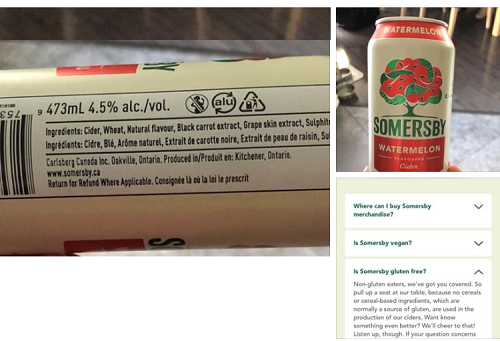 Although I'd generally consider cider to be safe, as always, read labels.  This one is Somersby Watermelon.  They state on their website that their ciders are gluten-free yet there it is, wheat, right in the ingredients list.   Be careful out there. 
Home> Gluten Free Alcohol>Gluten Free Cider