Gluten-Free Carrot Cake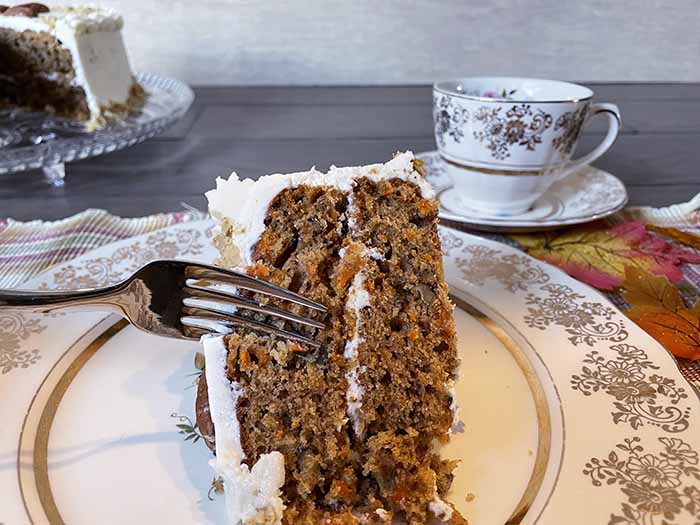 The Best Gluten-Free Cake Recipe
That's a pretty lofty claim, isn't it?  This is not just the best gluten-free carrot cake recipe, it the best gluten free cake recipe.  Why do I seriously think I can make that claim?  Keep reading and I'll tell you, or just skip to the recipe, try it for yourself, and then you can tell me.
What's So Great About Gluten-Free Carrot Cake?
If you've eaten in a restaurant or at an event that offers a gluten-free dessert option, you've probably noticed that it's often gluten-free carrot cake.  There is a reason for that.
| | |
| --- | --- |
| One of the main challenges with gluten-free baking is, well, the absence of gluten.  Gluten is the "glue" that binds the batter or dough together creating the structure that traps gas bubbles that are released by the yeast or baking powder (or whatever leavening agent you're using). Without that structure, the gas just releases into the oven and your baked goods come out flat and dense as well as dry and crumbly. | |
The whole trick with gluten-free baking is to find something to replace the gluten and provide that structure.  Often it's gums like guar gum or xanthan gum or more "natural" emulsifiers like flax or psyllium husk.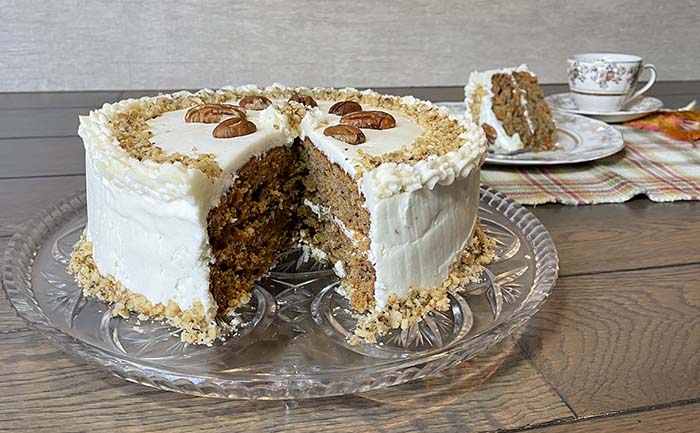 In gluten-free carrot cake, that structure is provided by, you guessed it, carrots.  The grated carrots provide bulk which helps the cake to retain it's shape and moisture as it's baked.  The addition of nuts or raisins helps with this too.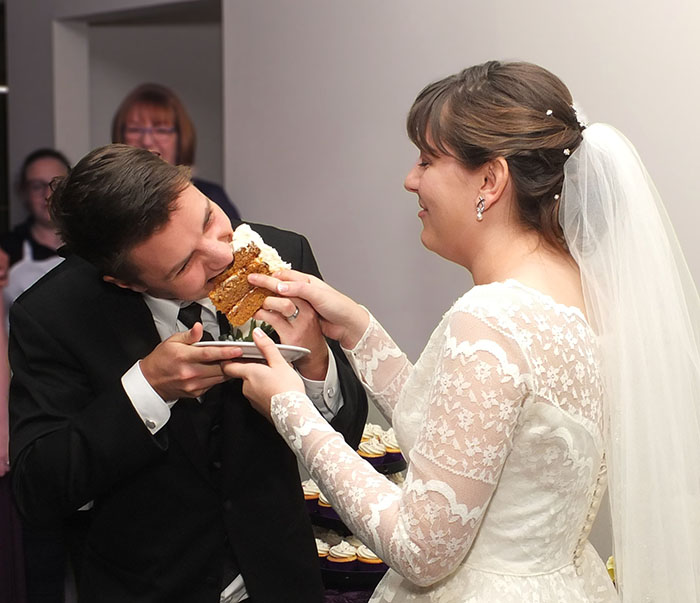 What you end up with is a moist, rich, substantial cake that you can serve even to your non-gluten-free guests and I guarantee they won't know it's gluten free.  I even used this gluten-free carrot cake recipe as the top layer for my daughter's wedding cake.

So why is gluten-free carrot cake the best gluten-free cake?
There are reasons why chefs and caterers often choose carrot cake as their go-to gluten-free dessert option. 
| | |
| --- | --- |
| | The grated carrots along with nuts or raisins provide structure so you don't need gums or other emulsifiers. |
| | The grated carrots add moisture that is well disbursed through the cake.  It doesn't collect at the bottom. |
| | Most people like carrot cake so it's a great universal dessert that you can serve on any occasion. |
| | You can dress it up to be as formal as a wedding cake or keep it simple with a smudge of frosting top and bottom to have with coffee. |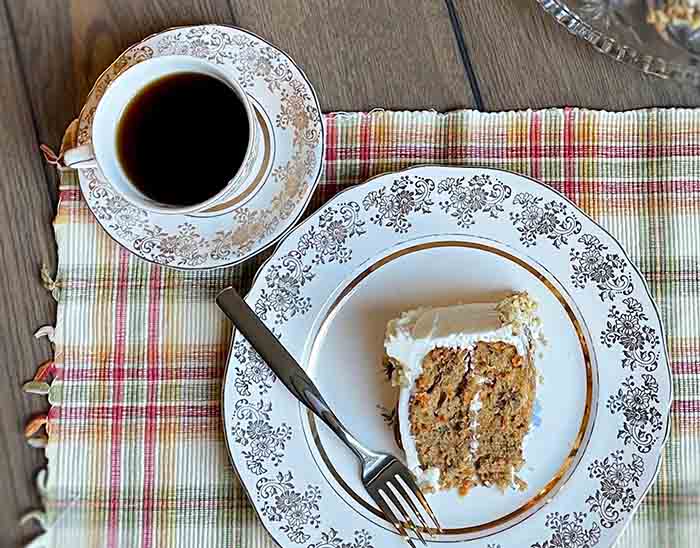 Why is this the best gluten-free carrot cake recipe?
That question is a bit harder to answer.  I've tried lot's of gluten-free carrot cakes, mostly from restaurants and caterers, and although most are very good, this gluten-free carrot cake recipe produces the most moist, rich and flavorful cake I've eaten.  Maybe it's the amount of grated carrot, maybe it's the oil that provides the smooth texture, maybe it's the three eggs that provide the velvety richness.  I really don't know.  
Here are just a few reasons why this is my favorite gluten-free carrot cake recipe:
| | |
| --- | --- |
| |  It's easy to make, and who doesn't love an easy gluten-free cake recipe? |
| |  It's both gluten-free and dairy-free |
| | A little tweak to the recipe will make it gluten-free and vegan |
| | My family asks for it often; for birthdays and special occasions, so it's kind of become my specialty (I'm sharing a family secret with you here.) |
| |  It's so good that there are rarely leftovers.  Meaning, I don't have to worry about cake sitting around threatening my waistline. |
| |  It's great for breakfast (another secret – okay sometimes there is a bit left over.) |
NGF Tip:
Divide the batter between 12 muffin tins and shorten the time to about 20 min (check after 15) and you have beautiful, handy, grab and go carrot muffins.

The Recipe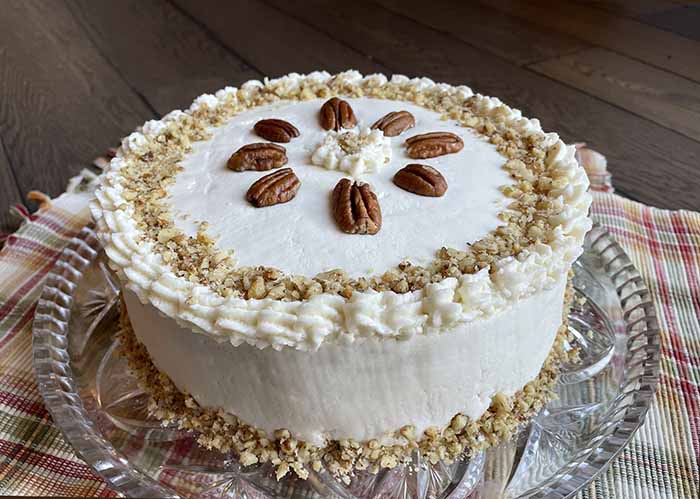 Gluten-Free Carrot Cake
Ingredients:
1 c brown sugar
1 c vegetable oil
1 tsp vanilla extract
3 large eggs (substitute flax eggs or egg replacer to make it vegan)
1 1/2 c gluten free all purpose flour
1 tsp baking powder
1/2 tsp baking soda
1 tsp xanthan gum (optional)
1 tsp ground cinnamon
1 tsp ground ginger
8 oz (225g) carrots coarsly grated
2 oz (60g) walnuts or raisins finely chopped
Method:
Preheat oven to 350 °  F (180 ° C)
Lightly grease 2 round cake pans and line with parchment, or 12 muffin tins and line with cupcake liners. 
Beat sugar, oil, vanilla and eggs with electric beater till smooth and thick.
Sift in flour, baking powder, baking soda, xanthan if using, cinnamon, and ginger.  Fold in til well combined.
Fold in carrots and walnuts or raisins.
Divide the mixture between the pans.  Bake 35 - 40 min for 2 round cake pans or 20 min for muffins.  To test, insert a toothpick or skewer it should come out clean or with a bit of baked crumb.  I like to use my thermometer.  The temp should be about 200 ° F.
Let cool in the pans for 5 min, then remove from the pans and cool on a rack.
The Frosting
I've given you two wonderful frostings to choose from.  The first is the traditional rich, velvety cream cheese frosting.  To make your cake gluten-free and dairy free / vegan, scroll down to the dairy-free buttercream frosting. 
Cream Cheese Frosting
Note: This frosting is very rich so this recipe makes just enough to do the centre and top of the cake.  If you want to frost the sides then double the recipe.

Ingredients:
2 tbsp unsalted butter

2 1/2 oz (75g) full fat cream cheese
1 tsp vanilla
1 3/4 c icing sugar (confectioner's sugar)
Method:
Cream the butter and cream cheese together
Add the vanilla and mix.
Sift the icing sugar then add slowly to the cream cheese and butter mixture while blending with the electric mixer or stand mixer.
Dairy-Free Buttercream Frosting
Note: This is a lighter, fluffier frosting.  The recipe is enough to do the center, top and sides of the cake.  You can store leftovers in the fridge for a week or in the freezer for a month.
Ingredients:
1/2 cup coconut oil (room temperature)
1/2 cup dairy free butter substitute (I like Crisco Golden Shortening)
2 teaspoons vanilla extract
4 cups sifted icing sugar (confectioner's sugar)
2-4 tablespoons unsweetened, unflavored dairy-free milk of choice (almond, soy, coconut)
Method:
Whip the coconut oil and butter substitute together with a hand mixer or in your stand mixer until smooth and creamy.
Add the vanilla and mix
Add the sugar gradually, continuing to mix
Add the milk a little at a time until desired consistency is reached.
Decorating Your Gluten-Free Carrot Cake
You are limited only by your imagination.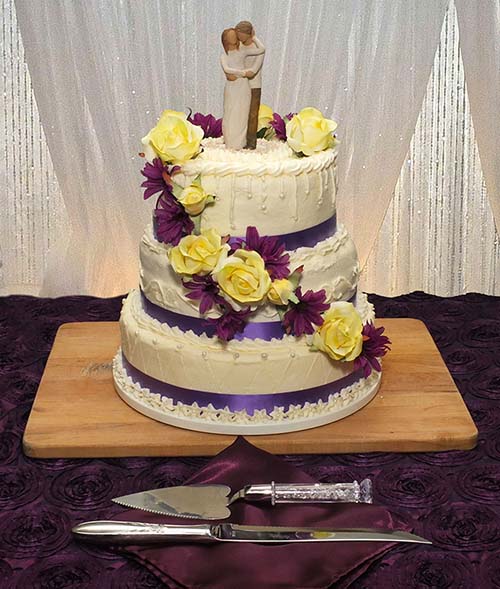 The traditional way of decorating a carrot cake is to frost it with a creamy white icing and add little fondant carrots with green leaves.  Or you can stay with the nut theme like I did with the one in the photo above.  I decorated with chopped walnuts around the base and top and pecans to mark the slices.  You could do lot's of different patterns with the chopped nuts.  Maybe make a loop over the top and sides of the cake covering about a quarter of the surface.  You can frost the top and sides like I did, or for a more casual look, just use the frosting in the middle and on top, leaving the sides nude and the centre frosting leaking out just enough to be irresistibly tempting.  Maybe sprinkle a little cinnamon on top.  

I'd love to hear your ideas!
Home > Gluten Free Baking > Gluten-Free Carrot Cake