French Onion Soup

French Onion Soup used to be one of my favourite treats to order in a restaurant and one of the things that made me feel sorry for myself when dining out.  Yes I've indulged in self pity periodically.  But no more!  This is the original French classic converted to gluten free and it's every bit as lusciously lip smacking as the gluteny version.  In fact, hubby compares restaurant French Onion Soup to mine, and the restaurants often come up short!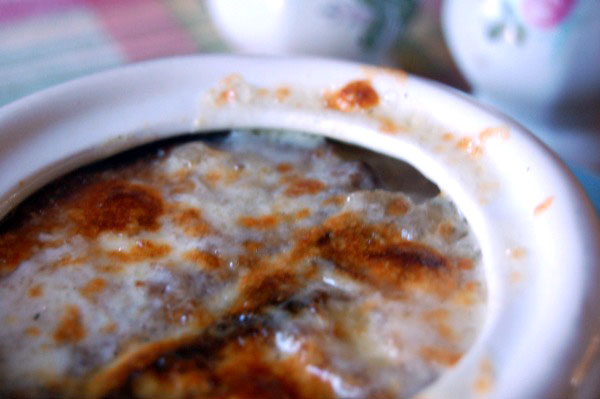 Ingredients
2 ½ lbs of onions (about 5 or 6 depending on size)
5 tbsp butter
1 tsp sugar
1 tbsp gluten free all purpose flour
¼ cup white wine
3 tbsp cognac or brandy
7 cups beef stock
Gluten free baguette
Cheese grated or thinly sliced – try mozzarella, gruyere, or emmantal
Method
Melt the butter on medium heat in a large soup pot.
Add the onions and sugar.  Stir and cook until the onions cooked down and become a deep caramel colour.  This may take 45 min to an hour.  You don't have to stir constantly, but don't go anywhere.  You'll have to keep an eye, stir occasionally and watch your heat.  If the onions seems to be cooking too quickly turn the heat down, if too slow turn it up.
Add the flour and stir so it's all mixed in.  Cook and stir a few min more.
Add the wine and cognac / brandy.  Cook for another few min.
Add the stock.  Simmer for about 20 min.
For the crouton: slice the baguette about ½ inch thick on an angle;  1 or 2 slices per bowl depending on the size of the bread and the size of your bowl.  Place on a baking sheet under the broiler for about 2 min.  Keep a close eye, you don't want it to burn.  Flip the bread over and toast the other side.
To serve:  fill oven proof serving bowls or ramekins with soup.  Leave a little room to float the bread on top.  Place 1 or 2 slices of bread on top of the soup in each bowl.  Top with cheese.  Don't be too neat, it looks nice if it spill onto the rim of the bowl a bit.  Place under the broiler until the cheese starts to bubble and brown.  Place the bowl on a plate to serve as it will be very hot.