Naturally Gluten-Free Giveaway!!
In honor of Celiac Awareness Month, I'm giving away a copy of Julie Daniluk's  new book.

Becoming Sugar Free
𝘏𝘰𝘸 𝘵𝘰 𝘉𝘳𝘦𝘢𝘬 𝘶𝘱 𝘸𝘪𝘵𝘩 𝘐𝘯𝘧𝘭𝘢𝘮𝘮𝘢𝘵𝘰𝘳𝘺 𝘚𝘶𝘨𝘢𝘳𝘴 𝘢𝘯𝘥 𝘌𝘮𝘣𝘳𝘢𝘤𝘦 𝘢 𝘕𝘢𝘵𝘶𝘳𝘢𝘭𝘭𝘺 𝘚𝘸𝘦𝘦𝘵 𝘓𝘪𝘧𝘦

A Big Thanks to Julie Daniluk for donating a copy of her book for this contest!!!

If you'd like to read my review of Becoming Sugar Free go here.
If you're wondering why someone with celiac or gluten intolerance might care about sugar, read the March issue of NGF Digest.  You'll get access to all back issues when you subscribe.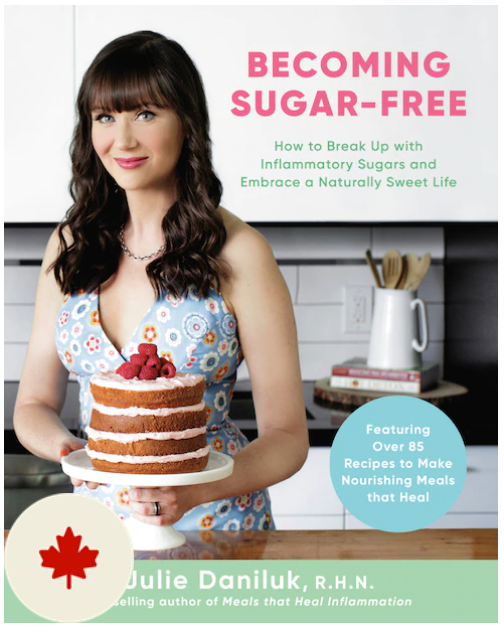 How to Win
That's easy.  Just sign up for my newsletter 𝗡𝗮𝘁𝘂𝗿𝗮𝗹𝗹𝘆 𝗚𝗹𝘂𝘁𝗲𝗻-𝗙𝗿𝗲𝗲 𝗗𝗶𝗴𝗲𝘀𝘁 using the form below between now and 𝗠𝗮𝘆 𝟭𝟳𝘁𝗵, 𝟮𝟬𝟮𝟮 and you will be entered into the draw to win the book.
How to Sign Up
Just fill out the form below and click the check box to subscribe to the newsletter and you're entered in the draw.
I Respect Your Privacy
I will only use your email address to send you my monthly newsletter. 
If you are the winner I'll notify you by email and collect your mailing address at the time, (If you don't respond in 5 days I'll pick someone else) and Julie Daniluk's business manager will mail the book to you.
Once the book has been sent to you we (Julie and I) will not keep your address on file.
About NGF Digest
It's FREE!!
You won't have to remember to check back.  NGF will just land in your inbox every month.  Here's what you'll get:
Free exclusive content not available on the website!
PLUS
A featured article every month
AND
A featured recipe every month
And as a personal thank-you for signing up, get my
FREE Printable Gluten-Free Food List
You can pin it to your fridge or take it shopping with you so you'll always know what to buy.
The Legal Stuff
Facebook / Meta is in no way sponsoring this contest and is not responsible or liable for it's administration.
No purchase is necessary to participate in this contest.
You must be 16 years of age.
The contest is open to residents of the United States and Canada, excluding Quebec.
The winner will be required to answer a skill testing question to comply with Canadian Law.
Here's The Form
By ticking the newsletter subscription box, I understand that you will send me Naturally Gluten-Free Digest newsletter monthly, and that I can unsubscribe by clicking the unsubscribe link at the end of any email.