Casual Atmosphere and a Dedicated Gluten Free Menu at Arthurs Pub
Arthur's Pub, Best Western
Location: 930 Burnham St, Cobourg, ON 


Arthur's Pub is close to home for me, but I only discovered it a few months ago.  Boy, was I missing out! The atmosphere is classy yet casual, the food and service are good, and they have a dedicated gluten free menu!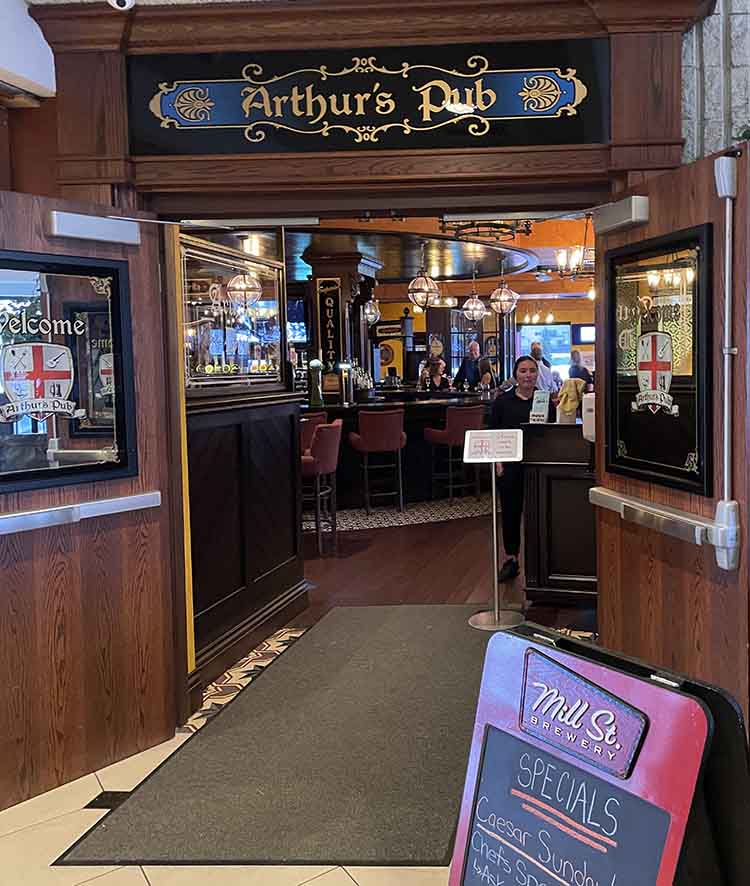 It's hard to find a place with a dedicated gluten free menu these days.  Most are going for the little "GF" or a symbol in the margin of the regular menu.  I get it.  It's easier to present all the special diets on one menu, but for those of us with celiac, having our own menu just makes us feel safer.  It makes us feel like they've put some thought into this, and they know what they're doing.
Arthur's Pub is in Cobourg, Ontario which is about halfway between Toronto and Kingston.  The restaurant is in the Best Western Hotel which makes it great for parties, conferences, and weddings where you might need overnight accommodations. In addition to the regular menu and the gluten free menu, they also have a breakfast menu, kid's menu and a late-night menu.
Gluten Free Menu at Arthur's Pub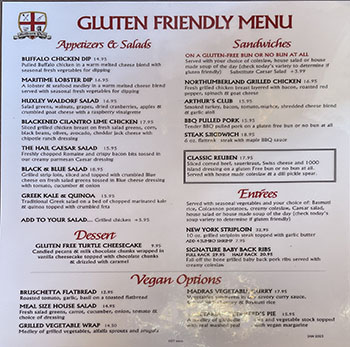 Think traditional Irish Pub.  In addition to sandwiches which can be served on a gluten free bun, there is a generous selection of salads, vegan options and even a gluten free turtle cheesecake for dessert. Sides are: Colcannon potatoes which is a traditional Irish potato dish, or basmati rice, coleslaw, salad or soup.  Just check with your server to see if the soup of the day is gluten free.
For your glutinous dinner companions there is an array of burgers, a Guinness braised mushroom pie and a selection of "boxty" which is a traditional Irish potato pancake dressed up with different fillings and sauces.
The only downsides for me as a gluten free diner are:
The fryer is not gluten free, so no fries for me
There were only two entrée's on the gluten free menu.  They were New York striploin and baby back ribs.  Neither suited my fancy so I ordered the BBQ Pulled Pork.
My Review

My BBQ Pulled Pork Sandwich was delicious.  It was saucy but not so sloppy as to be unmanageable.  The barbecue sauce is sweet and tasty and not at all spicy.  It came served on a gluten free poppy seed bun, alongside my house salad with a balsamic vinaigrette. 
On a previous visit I had the Northumberland Grilled Chicken Sandwich which featured bacon, roasted red peppers, spinach and bacon.  It was also delightful.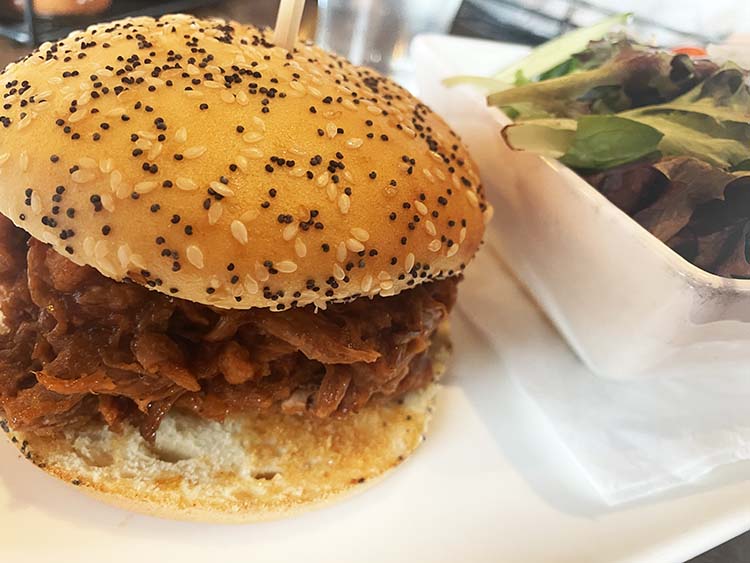 Service and Atmosphere

I've been to Arthur's Pub in Cobourg three times.  Once in the summer and twice in the early spring. 
For my summer visit I sat on the patio and ordered a salad off the gluten free menu.  My salad came topped with fried onions which I knew weren't gluten free.  I sent back my food and didn't have time to place another order and wait, so ended up not eating.  I will take some responsibility as, although I had the gluten free menu in my hand when I ordered, I didn't stress the need for gluten free and to control cross contamination as I normally do.  I was with friends, we were talking and I just didn't.  Lesson learned.
The other two times, we sat inside, and I made a point of calling out my needs clearly.  The servers in both cases understood and took note.  The food came quickly and was hot and delicious and I had no issues afterwards.
Would I go back?  Yes.  I'm confident of getting a safe meal at Arthur's Pub.  I'm dismissing my first, less than stellar experience as a simple mistake, and mistakes do happen.  This will become a new favorite spot.