Hi



Issue 011 – October 2022



What's your favorite time of year? Mine is fall. There are no mosquitoes. The hot sticky weather is over. I can pull on a cozy sweater and make and hardy, tummy warming stew.

Did I mentioned there are no mosquitoes!

Thanksgiving is over in Canada and just around the corner in the U.S. I figured your inbox is probably overflowing with Thanksgiving recipes so I decided to focus this issue more on comfort foods for every day and on immunizations. They're calling it "respiratory illness season" now rather than flu season because, well, you know.

I do have some general advice for navigating the holiday season though. You can find that here: tips for holidays and dinner parties
---

Go ahead and pass this newsletter along if you know someone who would benefit from info on living gluten-free and from some of my best recipes.


---
Featured Article
Gluten-Free Meat Cooking


This is exciting for me and I'm really hoping you like it! It's the first installment of the Naturally Gluten-Free Cooking 101 feature. I've been saying all along how learning to cook changed my life and how I wish the same for you. Now I'm going to teach you.

The idea is to learn the techniques, so you don't need recipes. Certainly, recipes can give you ideas, but if you have the skills, you can tweak and alter to suit your own taste or the contents of your pantry.

Last month was knife skills, a bit of a primer. This month we get into the nitty gritty and learn all the basics about cooking meat.

Of course there is always more to learn, but this article will give you everything you need to understand what's behind those recipes you read. It will make them easier to follow and make it easier for you to use your own creativity and change things up. Experiment a bit. Have some fun.

Gluten Free Meat Cooking

I'd love to hear your feedback. You can kick off the discussion by starting a thread here NGF FB Group



---
Featured Recipe
Braised Honey Garlic Sausages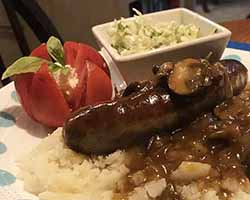 This is your chance to put those techniques you just learned to the test. I've given you an easy one to start. Braised sausages are pretty simple and quick compared to other braises that need hours to come to silky, saucy perfection.

I use honey garlic sausages because that's what hubby likes, but you can do this recipe with any sausage. Try a bratwurst. Like a little heat? Try spicy Italian. Just make sure your sausages are gluten free.

Once you've got this down, we'll up the game a bit and do a beef bourguignon, and after that a melt in your mouth, tender pot roast. Watch the website and next months newsletter for those.

Of course if you're an experienced cook, this won't be new, but maybe you'll pick up an idea or two. Or maybe you can share your secrets with the rest of us :)

Braised Honey Garlic Sausages


---
News From the Scientific Community
What Immunizations Should We Get?


The answer is of course, ask your doctor. But here is some info to spark the conversation. After all, not all doctors are fully versed in celiac disease and the things we might be susceptible to.

I say it all the time, but it bares repeating here. I'm a cook, not a medical professional, so any time I wander into health related topics I make sure to post references. I encourage you to follow those and make your own decisions along with your doctor.

Influenza
Although there is currently no evidence that people with celiac disease get the flu more or less often than the general population, a 2010 study out of Sweden concluded that people with celiac disease are at increased risk of hospitalization due to influenza.1 This is a good reason to talk to your doctor about getting a flu shot.

There is some concern among people with celiac that the flu shot may contain gluten or somehow be unsafe for us. This is unfounded. Celiac disease is not a reason to avoid the flu shot.2

Pneumococcal Pneumonia
People with celiac disease are at higher risk of developing pneumonia, especially during the first year after diagnosis. After the gf diet is established, the risk goes down, but does not disappear entirely.3 Usually the pneumonia vaccine is given to people over 65, but you can talk to your doctor about getting it sooner.

COVID19
I'm not about to wade into the controversy about the COVID vaccine, but here are some facts about COVID and celiac that you may find helpful.

There is no evidence that people with celiac have a higher risk of catching COVID than the general population. There is also no evidence that we have a greater risk of complications or hospitalization from COVID.4 But, as you probably know, there are other medical issues that go hand in hand with celiac disease such as type 1 diabetes, heart and liver conditions. These are also associated with severe outcomes from COVID.4

Researchers are still gathering data and are encouraging doctors to report in when celiac patients get COVID. Your doctor can fill out a report here https://covidceliac.org/ it only take a few minutes. There is also a survey that patients can fill out. This study is being done by celiac expert Dr. Alessio Fasano at Massachusetts General Hospital. Go here to fill out the survey https://redcap.partners.org/redcap/surveys/index.php?s=4DDF8AJYWT

Some folks with celiac are concerned that they may be more likely to have adverse reactions to the COVID19 vaccine. This is not the case. We are not considered immunocompromised and are not more likely than anyone else to have a reaction to the vaccine.5 So celiac disease is not a reason to avoid the COVID vaccine.

Can COVID Trigger Celiac Disease?
This is interesting, but when you think about it, it kind of makes sense. If you've had to complete one of those COVID questionnaires you know that diarrhea is one of the symptoms. So COVID does affect the digestive system. One study did confirm that people who are genetically susceptible to celiac are more likely to develop the disease after having COVID.6 So if you have celiac, your immediate family members should be tested. If they get COVID, that increases the likelihood that they will develop celiac. If they are hesitant about getting the COVID vaccine, this may be a reason for them to reconsider.

Rotavirus
Rotavirus causes diarrhea and vomiting and is most common among infants and young children.7. There is some evidence that vaccination against rotavirus in childhood may reduce the likelihood of developing celiac disease.8

Hepatitis B
Some studies have shown that people with untreated celiac disease don't respond to the Hep B vaccine.9 After going gluten free, we respond the same as everyone else. If you had this vaccine before going gf you may want to talk to your doctor about a booster.

---
What I'm Pondering
Community


I think we're seeing the light at the end of the proverbial tunnel with this COVID thing. Yes, we're hearing that another wave is coming this winter, but I choose to believe the light is there.

I'm interested if you've changed at all through this. Maybe start a conversation in the . NGF FB Group

For me, I'm much more appreciative of my friends. Those I was able to see during the last couple of years and those I haven't. I also appreciate all of you. Even though we don't all know each other personally we've supported each other and kept each other going through all of this.

I'm happy to see real life community events starting up again. We have fall fairs, holiday markets, concerts, and sporting events. I find myself appreciating those more now too.

---
What I'm reading
Gut Feelings by Dr. Alessio Fasano
I warned you that summer might get away on me and I might not get this one read. Well it kind of happened. I'm making my way through it however slowly. First impressions? Likely ground breaking, but far more technical than "Gluten Freedom" which is more for a general audience. I'll try to get it done before Christmas ha ha. Or maybe I should say ho ho.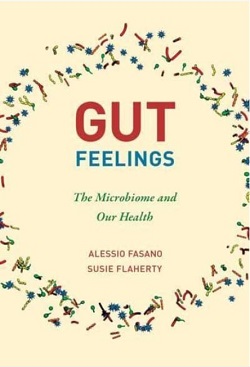 All About Braising by Molly Stevens
I just ordered this book from Amazon so it should be here in a day or two. I swear sometimes the Amazon folks are waiting up the street for me to place and order, stuff gets here so fast!




I mentioned in my GF Meat Cooking article (linked above) that braising is my favorite method for cooking meat so I'm anxious to learn what new and different approaches and tips Molly might have. I downloaded a preview and it's definitely left me wanting more.


More Reading
If you're interested in my celiac and food related reading list go here: Gluten-Free Books


---
A New E-Book from Naturally Gluten-Free
Some of you have been asking for advice for the newly diagnosed. A "Beginner's Guide" so to speak. So, I decided to create a hyperlinked e-book for you. It's been a bit longer coming that I intended, mostly because I've focused on the website this year and brought you lots of new, free content. But the book is still on the horizon. "Patience you must have, my young padawan." – Yoda


---
That's all for this month.
I'd love to hear from you. Let me know what you'd like to see in the newsletter. Just drop me a line from my Contact Page .


Talk to you next month.


In the meantime, you can follow me on Facebook at

NGF_facebook
Or on Pinterest at NGF-Pinterest

---
If you've received this from a friend, welcome! To learn more about me and my work click this link to my about Patty Maguire page . From there, feel free to peruse the site, then if you're interested you can sign up here to receive my newsletter every month.

I respect your privacy! I won't use your email for anything other than to send you my newsletter.

---
Sources:
1. https://www.researchgate.net/publication/46170550_Increased_Risk_of_Hospital_Admission_for_Influenza_in_Patients_With_Celiac_Disease_A_Nationwide_Cohort_Study_in_Sweden
2. https://www.hmpgloballearningnetwork.com/site/pln/content/flu-vaccine-misconceptions-patients-celiac-disease
3. https://www.beyondceliac.org/research-news/celiac-disease-increases-risk-for-pneumonia/#:~:text=Patients%20with%20celiac%20disease%20are,the%20bacteria%20that%20causes%20pneumonia.
4. https://celiac.org/celiac-disease-and-covid-19/
5. https://www.beyondceliac.org/celiac-news/covid-19-vaccines/
6. https://pubmed.ncbi.nlm.nih.gov/34145702/#:~:text=Conclusions%3A%20Genetically%20predisposed%20patients%20could,disease%20in%20the%20forthcoming%20future.
7. https://www.cdc.gov/rotavirus/about/symptoms.html#:~:text=Rotavirus%20disease%20is%20most%20common,tend%20to%20have%20milder%20symptoms.
8. https://pubmed.ncbi.nlm.nih.gov/30986791/
9. https://www.ncbi.nlm.nih.gov/pmc/articles/PMC3574880/
---