Hi



Issue 010 – Sept 2022

Go ahead and pass this newsletter along if you know someone who would benefit from info on living gluten-free and from some of my best recipes.


---
Featured Article
Gluten-Free Lifestyle


Is gluten-free a lifestyle or just a diet?

Certainly, living gluten-free means eating gluten-free food, but it affects so many aspects of our lives. In this article I talk about those affects and some approaches you might consider. I've also curated a bunch of my favorite "lifestyle" related articles and linked to them for your convenience.

Gluten-Free Lifestyle



---
Spotlight Discussion
Do You Really Need a Diagnosis?
Here's a common scenario. You suspect gluten might be an issue, so you "try" going gluten-free just to see if it helps. It does, so you go to your doctor and ask to be tested for celiac disease. What you didn't realize was that to get an accurate celiac test, you must be consuming gluten. I've even heard people report that their uninformed doctors told them to "try cutting out gluten" before getting tested.

So now your doctor tells you that you need to do a "gluten challenge" so you can get an accurate test result. This means eating roughly 2 slices of bread per day for up to six weeks!

The gluten challenge is tough. A lot of people decide they just can't do it and stay with their gluten-free diet with no formal celiac diagnosis. The question is, is this a good idea? Do you really need a formal diagnosis?

There are some important advantages to having a formal diagnosis, but at the end of the day it's a personal choice. Only you can decide if it's worth the pain.
Advantages of a Formal Diagnosis:
Benefits and Tax Breaks
- Depending on where you live, there may be certain insurance or government benefits like prescription foods or tax breaks.
Other Health Issues
- Celiac disease can lead to other health issues like thyroid disease, liver disease, osteoporosis, diseases related to nutritional deficiencies and certain cancers.
- It may be easier to get the doctor to test or monitor for those things with a diagnosis.
Family
- Your first-degree relatives should be tested. Your formal diagnosis can help to convince them to take it seriously.
Social Challenges
- Sometimes people find they are not taken seriously. Friends and family question if this diet thing is really necessary.
- You can only eat in certain restaurants and choices are very limited.
- You need special meals when travelling, going to work functions etc.
- Having a formal diagnosis can be helpful in the face of the eye rolls and give you the confidence to stand up for yourself.
Trusting Yourself
- At some point you start to second guess yourself. A formal diagnosis can help with that.
- With celiac you need to be very careful not just to avoid obvious gluten but also cross contamination. A diagnosis can help you in those times that you might be tempted to be less careful.
Celiac is Forever
- If you don't have celiac disease then you may have non-celiac gluten sensitivity (NCGS).
- Celiac disease is for life. You must remain on a strict gluten-free diet forever.
- NCGS can sometimes resolve over time.
- With NCGS you may not need to be as careful. You need to eliminate gluten only to the degree that it causes symptoms.

Disadvantages
Many people find the gluten challenge too painful. You may need to miss work. You may not be able to take care of your other responsibilities like your family.

It's Up to You

As I mentioned, it's a personal choice. Just make it an informed choice. My suggestion would be to get the diagnosis if you can, but if it's just too painful and would interfere with your life too much then maybe it's not worth it.

---
Featured Recipe
Gluten-Free Pear Crumble Dessert Pizza
(or Apple, or Peach)


Fall is around the corner and so is the harvest. We're already starting to get some beautiful fresh ripe tree fruit and what better way to enjoy them than…pizza?

Yes, that's right.

The kids will love this sweet treat and the adults will too. It's not exactly "healthy" or sugar-free, but life is about balance, right?

You may have as much fun making this as eating it. Go ahead and get the kids involved. Pear Crumble Dessert Pizza


---
News From the Scientific Community
Is There an Alternative to The Gluten Challenge?


The gluten challenge is the worst and that's something researchers have been working on.

Dr. Peter Green, director of the Celiac Disease Center at Columbia University, tells us that if a patient can't tolerate the full 6-week gluten challenge, then a modified gluten challenge might be the answer. Consuming one slice of bread a day for 3 weeks then doing an endoscopy will pick up 80% of celiac cases.


New Testing
Even more exciting is a new test that Dr. Green says will be available soon. This one involves consuming gluten for 3 days then having a blood test 1. Won't that be great!


---
What I'm Pondering
Herbs


I've seen lots of spam on social media lately pushing an herbal "cure" for celiac disease. Of course, we know there is no cure. However, many herbs do have medicinal properties and, in addition to flavoring our food, they can help with some mild symptoms.



---
What I'm reading
Gluten Freedom by Dr. Alessio Fasano
Last month I promised you my review of Dr. Alessio Fasano's Gluten Freedom. It's up and ready for you here.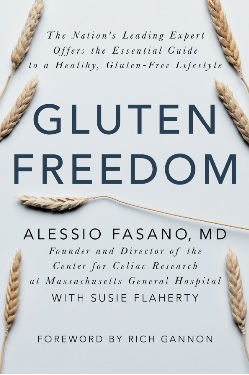 The Complete Mediterranean Cookbook
by America's Test Kitchen

This is my first cookbook review and it's already getting lots of traffic on the website.

I love ATK (America's Test Kitchen) cookbooks because they not only have great recipes, they give you so much information beyond the recipe. It's like cooking school on glossy pages with beautiful photos.




You get background on the food and the ingredients, and each recipe has extra info on why the recipe works and what other ingredients and techniques they tried. This is valuable if you're wanting to alter the recipe to your own taste or the ingredients you have in your pantry.

Go here for my review of The Complete Mediterranean Cookbook by America's Test Kitchen.
Complete Mediterranean Cookbook Review


More Reading
If you're interested in my celiac and food related reading list go here: Gluten-Free Books

---
A New E-Book from Naturally Gluten-Free
Some of you have been asking for advice for the newly diagnosed. A "Beginner's Guide" so to speak. Well, I started working on it and soon realized that it is much more than just a web page. I've decided to create a hyperlinked e-book for you which will likely come out mid-2022. I'll keep you posted here in the newsletter and on Facebook.

---
That's all for this month.
I'd love to hear from you. Let me know what you'd like to see in the newsletter. Just drop me a line from my Contact Page .


Talk to you next month.


In the meantime, you can follow me on Facebook at

NGF_facebook
Or on Pinterest at NGF-Pinterest

---
If you've received this from a friend, welcome! To learn more about me and my work click this link to my about Patty Maguire page . From there, feel free to peruse the site, then if you're interested you can sign up here to receive my newsletter every month.

I respect your privacy! I won't use your email for anything other than to send you my newsletter.

---
Sources:
1. Mediterranean gluten-free diet. BIDMC of Boston. (n.d.). Retrieved August 8, 2022, from https://www.bidmc.org/centers-and-departments/digestive-disease-center/services-and-programs/celiac-center/celiacnow/nutrition-and-the-gluten-free-diet/mediterranean-gluten-free-diet
2. Melinda. (2022, February 8). The Mediterranean Diet. HelpGuide.org. Retrieved August 8, 2022, from https://www.helpguide.org/articles/diets/the-mediterranean-diet.htm#:~:text=By%20reducing%20your%20risk%20of,you%20maintain%20a%20healthy%20weight
3. Bascuñán KA, Elli L, Vecchi M, Scricciolo A, Mascaretti F, Parisi M, Doneda L, Lombardo V, Araya M, Roncoroni L. Mediterranean Gluten-Free Diet: Is It a Fair Bet for the Treatment of Gluten-Related Disorders? Front Nutr. 2020 Dec 2;7:583981. doi: 10.3389/fnut.2020.583981. PMID: 33344491; PMCID: PMC7738606.

---