Stocking Your Gluten-Free Pantry
You want to make your pantry gluten-free.  Have you done a thorough clean out of your pantry?  Gotten rid of everything you no longer need and re-organized for your new gluten-free life?  If not, go here then come back, I'll wait.
52 Gluten-Free Pantry Items that You Need
You've started your grocery list with replacements for the items you got rid of when you went through everything in your pantry, but living gluten-free requires some products you've maybe not bought before.  Lets talk about these gluten-free staples that you'll want to stock up on.
Pin For Later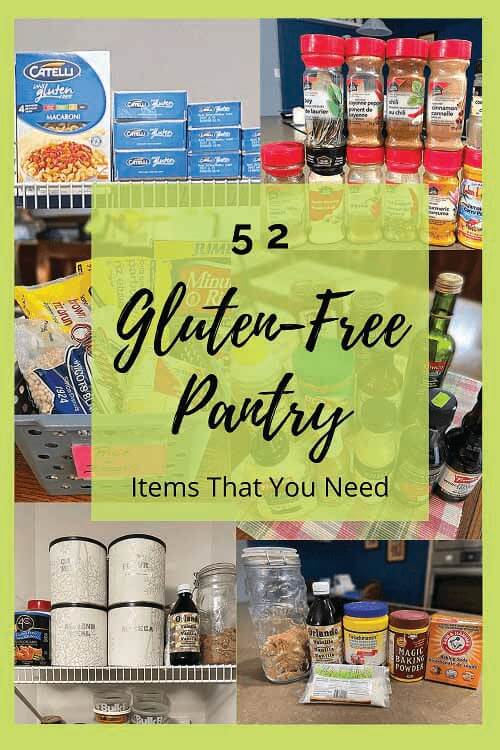 Flours and Baking Products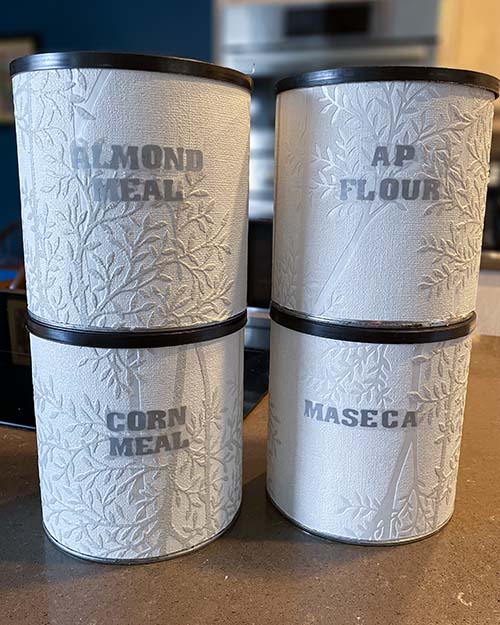 I like to recycle coffee cans as canisters.
Start with the staple gluten-free flours, then decide over time what fits with your diet and cooking style. 
1. All Purpose Flour Blend: You're going to want to choose a good, gluten-free all purpose flour blend.  Bob's Red Mill is a popular national brand and so is Cup 4 Cup.  If you're in Canada, Presidents Choice makes a good one.  I also like the Bulk Barn 1:1 baking flour.  If you choose one that has xanthan gum then most of your recipes won't require you to add it.  
2. Cornmeal:  Corn Bread is one of the gluten-free staples that many gluten-free homes rely on.  It tastes great and gives you a break from gluten-free breads that may never live up to your expectations.  Cornmeal also makes a good coating for fish or chicken, and it's a key ingredient in polenta.
3. Corn Masa or Maseca:  This is the corn flour treated with lime that is used to make corn tortillas.  If you're a fan of Mexican cuisine you'll want to learn to make your own tortillas.  They are perfect for tacos of course but also work as a flat bread for dipping, for enchiladas, or huevos rancheros.
4. Almond Meal:  Many muffin and quick bread recipes use almond meal.  This is a staple for your gluten free pantry. 
You may come across other flours in your gluten-free recipes like brown and white rice flour, oat, sorghum, teff or potato flour and tapioca starch.  I consider these to be specialty items that you may not use as often so I suggest to hold off on purchasing these until you see what comes up in the recipes you want to make.  The ones listed above are in my gluten-free pantry and I use them all the time.
Other Gluten-Free Baking Staples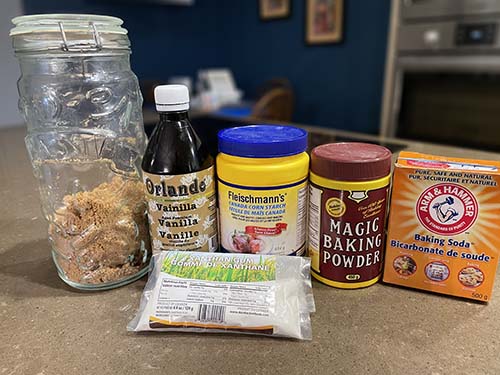 Items 5 to 10 are pantry staples and if you're just switching to gluten-free, these will need to be replaced as they're likely contaminated.
5. brown sugar
6  white sugar
7. honey
8. baking soda
9. baking powder 
10. corn starch
Vanilla and yeast are also staples and are naturally gluten-free (still read the labels). 
11. vanilla
12. yeast
13. Xanthan gum

This is a new addition to your gluten free pantry.  It's an emulsifier and helps to provide the structure to baked goods which is a challenge when you remove gluten.  If you buy a gluten-free all-purpose flour blend that has xanthan gum in it then you can hold off on purchasing this separately until you see if you need it..
If you sign up for my monthly newsletter you get a free printable gluten-free food list that you can take shopping with you or pin to your refrigerator.  Click the link below if you're interested. 
---
Check out my FREE Printable Gluten-Free Food List and Newsletter!
Up to the minute information about
Living Gluten-Free, Simply and Naturally
---
Spices and Seasonings
What's in those first few recipes you've decided to try out?

Individual spices are naturally gluten-free.  Do still read labels though.  A while back I accidently bought GreatValue (the Walmart brand) peppercorns and they had a may contain statement and I read the label after I was sick.  Yes I still make mistakes.  
Of course you need salt and pepper.  Kosher salt is best for cooking, it has a sweeter, milder flavor than table salt, which you'll want for your salt shaker.  Ground black pepper is handy for recipes and whole peppercorns will go into your pepper mill and you'll use them in soups and stews.  
A small variety of spices should get you started in pretty much anything you want to make.  As you amp up your gluten-free cooking skills, which I hope you will, you may branch out.  But here is a good start.  
14. bay leaves
15. cayenne pepper
16. chili powder
17. cinnamon
18. coriander
19. cumin
20. garlic powder
21. paprika
22. red pepper flakes
23. turmeric
24. curry powder
25. nutmeg
26. ginger
27. salt
28. pepper
Bay leaves are essential in soups and stews.  Cinnamon, nutmeg, ginger for baking.  Red pepper flakes for your pasta dishes and anything you want to spice up.  Cumin, coriander, turmeric and curry powder for fragrant curries and other south Asian dishes.  Paprika, garlic powder and chili powder for rubs and chili dishes.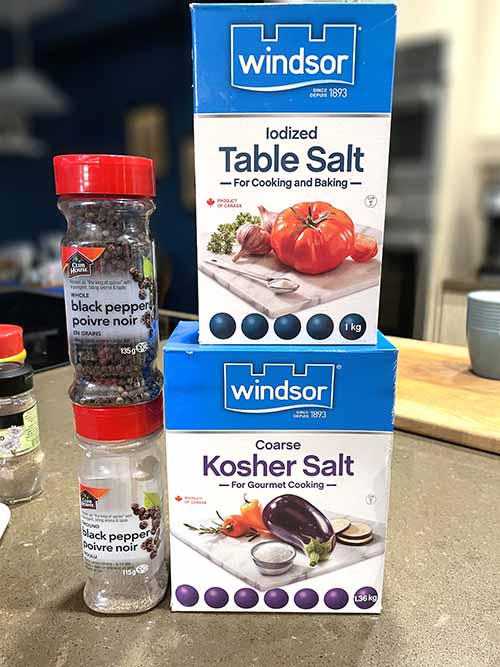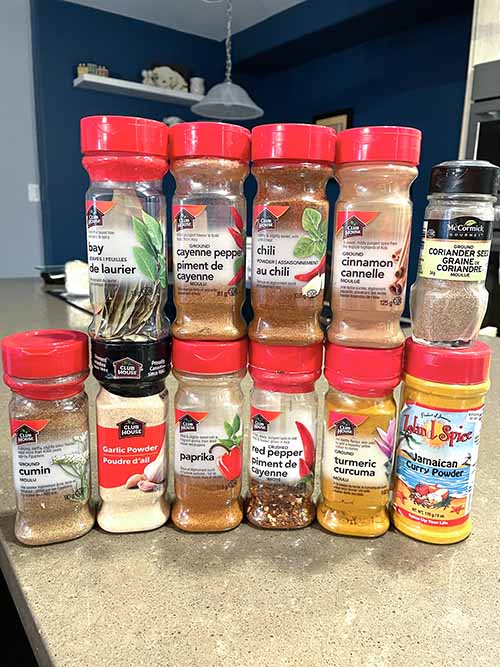 If you live in Canada you can trust labels. 
Go here for health Canada's guidance on gluten free labelling and here for a comprehensive guide from the Canadian Celiac Association.
If you live in the US,  here are the USDA guidelines
If you live in a country with less strict guidelines then you'll want to look up every brand or even call the manufacturer.
Rice and Beans
29. Rice is naturally gluten free and will likely be a staple in your gluten free pantry.  There are several types of rice and you may want to try different ones.  I keep all of these in my pantry but I'm just counting rice as one item.
Minute Rice or another instant rice is fine for quick meals. 
Converted or parboiled rice is good too and cooks quickly. 
Brown Rice has a bit more fiber and a higher glycemic index. 
Short grain rice like Arborio is good for creamy rice dishes like risotto or rice porridge.  
30. dried beans
31. canned prepared beans
You can keep both dried and canned beans in your gluten free pantry.  Canned is probably the most convenient as they're pre-cooked and that makes them fast and easy to prepare.  Look for a gluten-free claim on the label for canned and dried beans.  If you can't get gluten-free dried beans, wash them well and pick through for any foreign grains.  
Cans and Bottles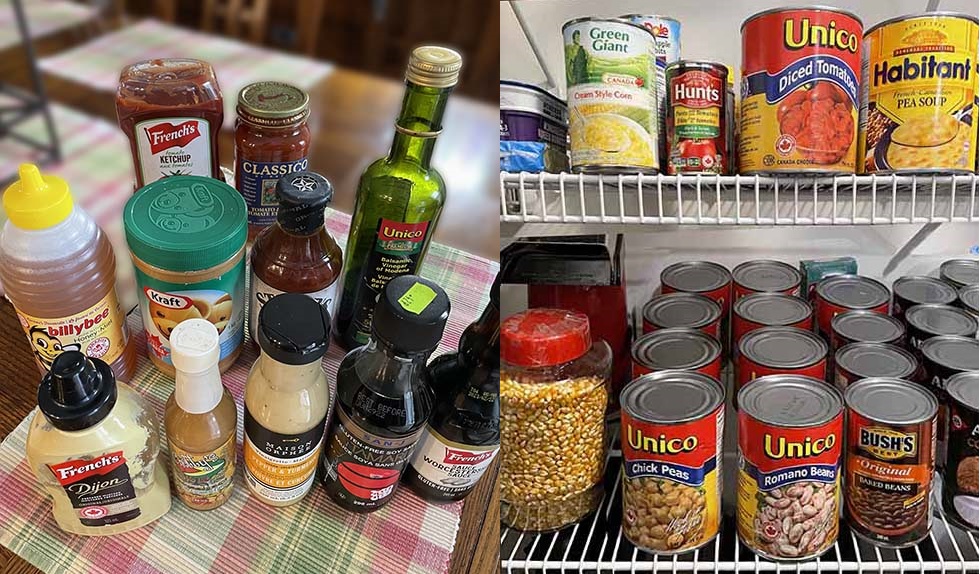 I try to keep these types of products to a minimum.  It's so easy to make your own gluten free sauces and salad dressings.  Gluten free soups are easy too and so much better than canned. 
But I totally get the value of convenience and keep some of these in my gluten-free pantry too.  Check labels and settle for a few favorites.  
Look at those first few recipes you chose.  They will guide your choices. 

Condiments:
32. ketchup
33. mustard
34. white vinegar
35. balsamic vinegar
36. hot sauces
All of the above will likely be gluten-free but I've seen exceptions so check your labels.  Be especially vigilant of brown sauces like barbecue sauce or steak sauce.  Also, I've seen grainy mustard with wheat on the label.
37. gluten-free soy sauce
38. gluten-free Worcestershire sauce
Soy sauce and Worcestershire sauce usually contain gluten so look for a gluten-free version.

Soups: Of course homemade soup is best but a few ready-made soups for convenience is nice.  Habitant French Canadian pea soup is a favorite of mine.  I also like Imagine brand soups.  The organic section is likely to have choices with fewer ingredients and producers are less likely to add unnecessary gluten.  Read labels. 
Ingredients for gluten-free recipes: Common recipe ingredients are:
39. diced tomatoes
40. canned beans like kidney, black or Romano
41. canned coconut milk
42. tomato paste. 
These are all naturally gluten-free and low risk except for the beans which should be labelled gluten-free.  Of course check all the labels anyway.
Fats and Oils:
43. extra virgin olive oil
44. cooking oil like canola, coconut, sunflower or avocado
These are naturally gluten-free.  Of course read labels but there should be nothing to worry about here.  Keep a good extra virgin olive oil for dressings, avocado or canola oil for cooking.  Avocado oil is good for salads too.  You may be  able to get an avocado and canola blend which works well for cooking and salads and is less expensive than pure avocado oil.
Gluten=Free Pasta
45. spaghetti
46. lasagna
47. rice noodles
There are many gluten-free pasta options out there.  As you can see, I'm a Catelli fan.  A lot of people recommend Barilla brand.  Asian rice noodles or "glass" noodles are good for Asian dishes.  Experiment and see what you like.   I like to keep a variety of shapes on hand to suit my mood. 
Nuts and Seeds
48. walnuts
49. pecans
50. flax seeds
51. chia seeds
Walnuts and pecans are common ingredients for muffins, banana bread and other baked goods.
Flax seeds and chia seeds add fiber and nutrients to these same baked goods and also have emulsifying properties.  When added to water they form a gel which provides some of the binding power that you're losing by eliminating gluten.  They make good egg replacers too.
52. Dried Fruit
I'm lumping this all together as it's kind of interchangeable depending on what you like.  We're talking about things like raisins, currants, dried cranberries, prunes, apricots.  All work well in baked goods, added to salads and sauces or sprinkled on your gluten-free oatmeal.
52. Bread Crumbs
There are a few different options for bread crumbs.  Try them out and see what you like.  Looking for a grain free alternative?  Try mashed potato flakes.
Do you have any essentials in your gluten-free pantry that aren't mentioned here?  Join the discussion at our NGF Facebook Group.
---
You Might Also Like
Gluten-Free Kitchen: This is where that overall strategy is important.  If you decide to have some glutenous food in the house then you'll need do that safely.  Cross contamination is real and it's important that you set up your gluten-free kitchen (or mostly gluten-free kitchen) so that it functions well for the family, and so that you don't get sick.
---
Gluten-Free Pantry: Have you been putting off the job of making your pantry gluten-free.  I don't blame you.  It's a big job and not for the faint of heart.  But you are not faint of heart and you have support, me.
Home > Gluten Free Meals > Gluten Free Pantry